Weddings, retirement parties, proposal dinners, bar and bat mitzvahs, and other big celebrations are special times. They are times that should be enjoyed, remembered, and treasured. A lot of time, money, care, attention, and effort go into making these events so special, so you want to protect all that work from unforeseen circumstances. This is where special event insurance comes in. It adds peace of mind and protection. At Snyder Insurance, we can help you with this sort of policy, and we can help you determine when to get special event insurance.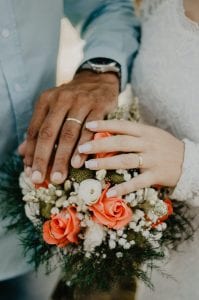 A wedding may not seem like something that needs to be insured. After all, it's just one event and not something that is exposed to prolonged risk factors. However, when you consider that the average wedding today can cost well over $20,000 to $30,000, it's easy to see why insurance and protection is needed. 
Aside the home, a big wedding is often one of the biggest investments of a lifetime. The same may be said for other big events, too, where a lot of planning and expensive details must come together perfectly. Fortunately, there are affordable options that can help protect your investment. Insurance like this is often called One Day Insurance Coverage, and is designed to protect the event and everything associated with it.
Build Your Own Large Event/Wedding Insurance Policy
If you are wondering about how to select the best special event insurance for your big day, Snyder Insurance is here to help! If you are unsure exactly when to bring special event insurance into effect we are here to help answer these questions and more, and to offer you tailored one-day insurance packages. The policies that we offer are designed to be flexible enough to cover the basics while accommodating the specific needs and limitations that your event may have.
Here are some of the popular coverages offered:
Event Cancellation – protects your deposits and upfront payments, and also helps offset the cost of returning rental items early. It will also help protect against venue fees related to changes in dates or times that must be made due to issues, such as illness or inclement weather.
Special Coverage– protects against damage to things such as the wedding dress, tux, and other items at your event. This coverage can also include protection for the cake, decorations, venue, or sound systems, among other high cost things that might be damaged.
Event Liability Insurance– a standard policy offering that covers damages that are sustained by the venue, or covers any injuries that guests sustain while at the event. Many venues require that you take out this the type of insurance before they host your event, so that they are protected against any damages they sustain.
These are the basic types of special event insurance that are available. Contact us and speak with an expert directly, to learn more about the other options available.
 Contact Us
If you have been left scratching your head and wondering about when to get special event insurance, Snyder Insurance is here to help!  Come stop by our offices, or give us a call. You can also reach out to us online through our website. This is your big day, so protect it and give yourself peace of mind that lets you sit back and enjoy the moment fully. We look forward to hearing from you, and helping you with your special event insurance needs!