Have Questions About Workers Comp?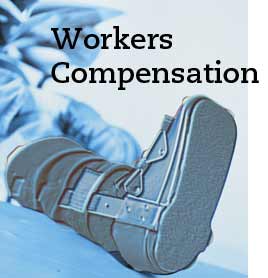 Whether you're an old hand on the topic, a newly minted businessperson, we hope the following 8 questions help lift the veil on this oft-times complex subject.
8 Main Questions About Workers Comp
Workers comp, workman comp, workers' compensation. Is there a difference?
Workers' compensation is also called workers comp and workmans comp. No matter how it may be called, workers comp is a form of insurance that is mandated by the state. It ensures that employees, workers and business staff are provided with compensation in the event of an employee suffering a job-related injury or illness. For federal workers, workers comp is administered by the federal government. But for state employees and those who work for corporate and privately owned businesses, every state is responsible for managing its own laws, regulations and programs regarding workmans comp. For current information regarding workers' compensation for Illinois and what your business's responsibilities are, you can visit the Illinois Worker's Compensation Commission's website.
With that in mind, generally speaking, an employee who has suffered a work-related illness or injury is eligible for workers comp benefits. It doesn't matter who is at fault: the worker, the employer, a fellow employee, a customer or client of the business, or any other 3rd party. It is important to note that in receiving the guaranteed benefits, workers typically don't have a right to bring a legal suit against their employers and seek damages for injuries.
Is workers comp just for covering medical expenses related to my employees' injuries or illnesses?
Not only does workers compensation cover hospital and medical expenses regarding your employees' work-related injuries or illnesses, it supplies disability payments during the time they are unable to work. Generally, these payments are equal to about 2/3rds of the injured employee's regular salary. They may also cover rehabilitation, retraining or other benefits.
Does workmans comp cover every job-related injury?
Workers comp will pay the majority of job-related injuries, but not necessarily all. Workers compensation covers benefits for employees who suffer work-related injuries regardless of the cause, including carelessness on the part of the employer or employee. However, there are limits. For example, an injury that occurs due to the worker's intoxication or use of illegal drugs would not be covered. Additionally, benefits might be denied in the following situations:
A wound or injury that is self-inflicted by the employee. This includes injuries due to the worker starting a fight.
An injury that occurs while the employee is committing a crime.
An injury that is not work-related or that happens when the worker is not on the job.
An injury that occurs because the worker's conduct is in violation of the company's policy.
Will workmans comp take care of long-term problems related to an illness or injury?
An employee's injury needn't be due to a sudden mishap (for example, falls from ladders) in order for the worker to receive benefits. Employees are regularly compensated for an injury that develops over a long period of time. Carpal tunnel syndrome or chronic back conditions are two examples. Other conditions or illnesses that may warrant compensation include the long-term effects that result from working conditions: a heart condition, lung diseases, or stress-related digestive conditions are samples of accepted reasons for workers comp.
If my employee's injury is work related, but the injury didn't happen at my office or on property that my business owns, is the employee still entitled to compensation?
Yes. When an injury is work related, regardless of where it happens, it is covered by workers comp. This includes injury that may occur while traveling for business, performing an errand related to work or when employees attend social events that your business requires them to be present at.
Is every employee protected by workmans comp?
Not every employer is required to carry workers comp insurance. In general, a business's responsibilities regarding workers' compensation will depend on the number of people it employs. Other factors include the kind of business it is and the sort of work its employees do. The law can vary from state to state, and all states exclude particular kinds of workers. Again, those exclusions vary according to state, but they frequently include agricultural workers, domestic positions and seasonal workers. To learn more about employment positions that business's can legally claim exemption from workers comp, go to Illinois Worker's Compensation Commission's website. [insert: http://www.iwcc.il.gov/].
Can an employee take a business to court regarding a work-related injury?
Should an employee suffer injury due to recklessness or deliberate action by the employer, the worker can opt to bypass the workers comp structure and file suit against the employer.
Where can I learn more about workers comp insurance for Illinois?
A quality independent insurance agency, such as Snyder Insurance, can answer questions and get you pointed in the right direction. The Snyder Team has trained, experienced agents who can help you understand your business' legal obligations and learn what kind and how much Workers Compensation Insurance coverage you need to protect your business and your employees. They can also answer questions about other business and commercial insurance like General Liability Business Insurance. Call (630) 960-4848 or CLICK HERE to ask for a quote.