Warm And Safe: Wood Stove & Space Heater Safety Ideas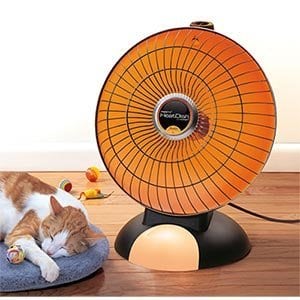 Many people use alternative heat sources as the days grow colder. Especially during mid winter, there is a rise in the use of these systems like wood stoves, space heaters and fireplaces. These can be efficient ways to save on heating bills and warm up areas of your living space that might otherwise be chillier or draftier than others. We at Snyder Insurance in the Chicago area want you to be both warm and safe in your home. So if this sounds like you, give some thought to the space heater safety tips below. They work as advice for wood stove safety and other alternative sources, too!
And whether you own your home or rent, consider reviewing your homeowner's policy or renter's insurance to make sure you're covered in the event of an alternative heat source accident or fire.
Wood Stove & Space Heater Safety Tips
Wood Stove & Space Heater Safety Tip #1: General Safety
Teach everyone in your home to use caution when using any alternative heating source. Lay some ground rules for children, according to their ages and degree of understanding. With small children, consider proper child guard around any potentially open source of flame or hot element. This is a particularly important fireplace or wood stove safety tip.
Wood Stove & Space Heater Safety Tip #2: Carbon Monoxide
Prior to operating a space heater or similar heating source, make sure you have a working carbon monoxide detector installed in several areas of your home.
Wood Stove & Space Heater Safety Tip #3: Fuel Safety
Never use a different type of fuel than is specified by the manufacturers of the heating sources you use.
Wood Stove & Space Heater Safety Tip #4: Kerosene Heaters
Never, ever allow a kerosene heating device to be operated indoors. Kerosene heating sources draw large amounts of oxygen into them as they burn. Operating them in small rooms or areas with poor ventilation can result in oxygen being lowered to life-threatening levels. The reduction of oxygen in small or poorly ventilated places can also mean incomplete combustion of the kerosene, living your loved ones to breathe dangerous levels of carbon monoxide.
Wood Stove & Space Heater Safety Tip #5: Wood Stoves Basics
Particularly when it comes to wood stove safety, it's important to keep in mind that these alternate heating sources differ in a variety of ways. And iron-sided wood stove with only a single-layer wall, for example, radiates massive amounts of heat in every direction in a several-foot radius. This makes them very dangerous to the touch, especially in homes with small children.
Alternatively, wood stoves that have multiple walls and insulation with forced-air features are better at protecting against burns from touching when being used. However, all wood stoves no matter their design should be used with caution and operated only by a competent adult.
Wood Stove & Space Heater Safety Tip #6: Wood Stove Installation
Again, in regard to wood stoves, installation is critical. Wood stoves will require future maintenance and replacements, so plotting out plenty of space prior to installation is essential. Consider, too, safe flue or vent pipe routes that must meet code and, above all, ensure that the stove is not installed near anything combustible.
Purchase a wood stove that carries official approvals regarding proper testing and ratings. Three organizations to look for in these approvals are the National Fire Protection Association (NFPA), American National Standards Institute (ANSI) and Underwriters Laboratories (UL). Wood stoves that have undergone proper testing and have good ratings will display safety labels and come with a thorough guide for installation.
Wood Stove & Space Heater Safety Tip #7: Wood Stove Code Requirements
More than likely, your wood stove installation will need meet code and label requirements regarding heat shielding for the flooring that will be under the stove, as well as surrounding areas like walls. Proper heat shielding will include satisfactory protections at the front of the fire box as well as the area in which ashes will be removed.
Wood Stove & Space Heater Safety Tip #8: When In Doubt, Hire A Pro
Installing a wood stove can certainly be visually attractive for the whole family as well as help trim heating costs in the winter. If you haven't had much experience in wood stove installation, you might preferred to hire a bonded and insured pro who can install the stove safely, up to code and beautifully for years of enjoyment.
Wood Stove & Space Heater Safety Tip #9: Pellet Stove Basics
Pellet stoves have very much the same attractive designs as wood burning stoves. But pellet stoves are a more modern concept that makes use of compressed wood or biomass pellets for creating warmth. It is considered a more eco-friendly heat source than wood burners. Pellet stoves also require electricity to operate.
Pellet stoves are fueled by a steady feed of pellets that are stored in a hopper. The design allows the pellets to continually self-feed into the burn pot area. This allows for a continual fire requiring next to no need for adjustment as long as the hopper has a steady supply of pellets. Often, pellet stoves will have fan delivery systems that distribute the heat into the room and help force by-product exhaust into the vent pipe.
As with traditional wood burning stoves, unless you are already well experienced in installations of this kind, it's essential to contract with a professionally certified installer with the proper licensing. This ensures that installation allows the right amount of venting; proper electrical voltage, grounding and polarity for operating the stove; and the meeting of minimum required clearance surrounding the stove.
Wood Stove & Space Heater Safety Tip #10: Visit IBHS For More Alternative Heating & Space Heater Safety Information
The Insurance Institute For Business And Home Safety conducts objective, scientific research for the benefit of both home and business. To learn more important safety tips about using alternative heating and space heater safety, read their article "Reduce Damage to Homes from Alternative Heating Sources" at their website.
Snyder Insurance Cares About Your Safety
The team at Snyder Insurance & Financial Services cares about you having a safe and fun winter season. If you need insurance-related information about home safety…whether summer, winter, spring or fall… our experienced independent agents and highly-trained staff are happy to help.
If you live in Chicago or Illinois, call (630) 960-4848 or use our Contact Page to learn why we're one of the top-rated insurers in the state. Enjoy the winter season safely!