Finding the Best Pet Insurance for Your Furry Friend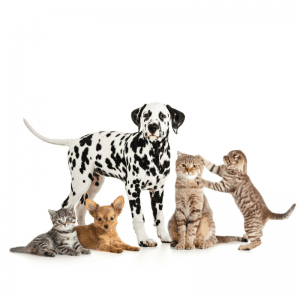 Finding the best pet insurance can be a little daunting. Like health or personal insurance for the two-legged loved ones in the household, understanding your pet's needs is an important step in the decision making. Not all insurance policies for your furry family members are alike, after all. But Snyder Insurance and Financial Services in the Chicago area has some tips on getting the best type of pet insurance for your family's very best friend.
Six Things That Make the Best Pet Insurance
Today's medical technology has been as much a boon to superior veterinary care as it has been for human medicine. But, just as with regular medical expenses, with these advances can come with a higher price tag. No one disputes that our pets are worth it. But it does mean that pet insurance is as important today as health insurance for the rest of the family. So what makes the best pet insurance for the most reasonable price? Let's take a look.
Peace of Mind. The elements that make up the best pet insurance start with confidence that you have the big medical risks covered. This lets you focus on giving your pet all the love and care that's needed, rather than worrying about how you're going to cover the vet bills.
Having pet insurance can give you a peace of mind that you are covered for the worst case scenario…but the keyword is "covered".
Coverage for the Big Three: Accidents, Injuries and Illnesses. Sure, it's easy to think about pet coverage for illnesses that are common for your dog or cat's specific breed, but unforeseen injuries can be costly as well. The best pet insurance will take into account not just illness, but injuries and accidents, too.
That being said, the best type of pet insurance will cover your pet for the following main diseases:
Cancer. Cancer is seen as often in veterinary clinics as it is in regular medicine. It's possible for pet surgeries and treatments for cancer to become just as costly, too. The best pet insurance will include good coverage for this condition. When speaking with your independent insurance agent, be sure to include as much information as you can about your pet's breed and medical history so the proper coverage can be determined.
Chronic Disease. Just as with cancer, our pets can suffer from chronic conditions just as humans can. A chronic disease is an illness of prolonged duration. These illnesses usually progress slowly and, oftentimes, they are incurable. The best pet insurance will take into account the possibility of chronic diseases such as heart conditions or kidney or liver diseases.
It may be tempting to exclude this option from your pet's coverage, but Snyder Insurance doesn't recommend that. Just as with humans, most chronic diseases don't appear in pets until they reach middle age or older. By then, Do not get a plan that excludes chronic diseases. These types of diseases usually show up in middle aged to older dogs and cats. By then, your pet may be ineligible for complete chronic disease coverage.
Continuing Care for Long Term or Chronic Disease. By its very definition, a chronic disease is a long term illness. If your pet develops a long term illness, continuing care that includes regular diagnostics, medication, or ongoing treatment need to be taken into consideration. The best type of pet insurance should include these contingencies.
Without such coverage, chronic diseases are generally only covered for the policy year in which the disease is diagnosed. Following that, all care is subject to be out-of-pocket. Don't risk it. Chronic disease in both pets and humans go hand-in-hand with long term care and needs. When taking out chronic disease coverage, be sure to include long term care coverage.
Hereditary or Congenital Disease. The best pet insurance will also take into account the possibility of hereditary or congenital illnesses or disorders. Sometimes this type of condition is evident at birth, but it can also wait until your pet is older before it develops or become obvious. These types of conditions can be present at birth or develop later in life.
Certain conditions, like hip dysplasia, are common. Others, like Liver Shunt are not. Understanding your pet's breed history will go a long way in helping you determine the best pet insurance coverage for hereditary and congenital diseases. But that's not to say you should omit this type of coverage should the breed of your pet not historically show many hereditary or congenital issues. Often, congenital or hereditary conditions, like patella luxation for example, aren't specific to breed, but are part of a pet's family line.
A Few Other Things to Consider for the Best Pet Insurance Coverage
Certain pet insurance companies will set hip dysplasia coverage apart from standard policies. So, if your pet is a breed of dog with a predisposition to this condition, you will want to make sure you know if you're covered when searching for the best pet insurance.
Be sure to take your pet's breed (or breeds, if your pet is a mix and that can be determined) into consideration when sitting down with your independent insurance agent to discuss the best pet insurance. The majority have breed or species-specific predispositions when it comes to disorders and diseases.
For example, Golden Retrievers are predisposed to Hypothyroidism and Hemangiosarcoma. Miniature Poodles may develop Bladder Stones, Diabetes Mellitus, or Cushing's Disease.
Age-related conditions are less breed specific, but should be taken into account as well. As dogs age, for example, regardless of breed, they can develop Osteoarthritis . As cats age, they can be prone to hyperthyroidism, Diabetes Mellitus, and kidney disease.
In short, the more you know the better you will be able to select the best pet insurance for your budget and your beloved furry one. But keep in mind, you don't have to go it alone. A quality independent insurance agency like Snyder Insurance and Financial Services is designed to keep your best interests in mind instead of those of any one insurance company.
If you have any questions about how to find the best type of pet insurance for your pet and budget, the Snyder Team is happy to help. Contact Snyder at (630) 960-4848. We're a top rated, comprehensive independent Illinois insurer that has served the state and the greater Chicago area for over 35 years. We look forward to hearing from you.