Getting The Best Electrician Insurance For You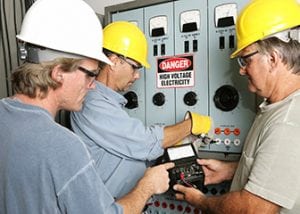 It can definitely be said that electricians light up our lives. Electrical contractors have been an integral part of the modern world since the 19th century. Infrastructures. Installation, repair and maintenance of power lines and electrical grids in every city, town and contemporary home. We all depend on the expertise of electrical contractors to keep our global communities thriving. Each time a switch is flipped or our laptops tops are opened is a reminder of how essential electricians are. Just as essential as electricians are to us, so, too, is electrician insurance a crucial tool in the electrical contractor's "business tool box."
Just as commercial insurance is vital to a corporation or life insurance is a must-have for the conscientious head of a household, electrician insurance is something all electricians should carry no matter how large or small your company. Snyder Insurance & Financial Services in the Chicago has some tips for those who are looking for the best electrical contractor insurance that fits their company.
Liability Coverage In Electrician Insurance
It comes with the territory: working daily with live wiring, energized circuitry, stray voltages, and more. For electrical contractors and their crews, the probability of an accident at any time during a job isn't a question of if, but when. Bodily injury in and of itself is a primary hazard. Electrical contractors or their crews account for 34% of all reported electrocutions.
The electrical contractor that owns his own business knows the protection of his company and his crew is dependent on risk management plans that can be relied on. Having the right liability coverage in your electrician insurance safeguards both business and workers against any high costs of liability suits as well as injury to employees.
The best way to get the type of liability coverage in electrician insurance that works best for you is to deal with an independent insurance agency. A quality, experienced independent insurance broker doesn't have a dog in the fight. He or she isn't beholden to a particular company. They are beholden to you, the client. An independent insurance broker will shop the companies for the best electrical contractor insurance for your company's budget and make sure your policy includes liability coverage.
In addition to liability coverage that protects against high financial liability due to injury and property damages, a good well-balanced electrician insurance will include:
General Liability.
Worker 'Comp.
Business Vehicle Coverage.
A well-trained agent or broker will be able to tailor electrician insurance to match the needs of your company while ensuring you're protected in the event of a lawsuit, damages to your business properties and all that entails.
Unsure If Your Company Needs Electrician Insurance?
Virtually any business that falls under the umbrella of the electrical trades should have, at the very least,  basic electrician insurance. This includes
Electrical Contractor
Electric Repair
HVAC Techs
Heating Contractor
Lighting Techs
Lighting Consultant
Air Condition Contractor
Construction Company
A quality independent insurance agency like Snyder will always be fully up-to-date on the laws of Illinois regarding businesses that are related to electrical trades. So, if in doubt, consult your insurance agent.
The Basic Elements Of Electrical Contractor Insurance
General Liability Insurance
Also known as GL, this is an absolute must-have in electrician insurance coverage.GL protects your business from a lawsuit as well as a variety of types of financial liability such as an accident or other mishap. General liability can be part of a bundle in an electrician insurance policy, depending on what insurance company you ultimately sign up with. This is something your independent agent can help you with.
Business Owners Coverage
It's not unusual for a business to need protection beyond basic liability, and a company that needs electrician insurance is no exception. Business Owners Coverage may be added in order to cover extra protections such as property, income loss and identity theft.
Workers Comp In Electrical Contractor Insurance
Workers comp covers item like medical expenses, portions of lost income for a worker in the event of sickness or work-related injury.
Electricians Vehicle Coverage
Being on the road every day is part of the job for an electrician. Such daily, regular travel increases risks for vehicular accidents. Vehicle coverage specifically designed for the needs of electrical contractors is an essential part of electrician insurance. It provides coverage like injury, property damage, thefts and loss of cargo.
Completed Operations Coverage (COC)
Once the job is done, it's not unusual for the customer to makes claims of poor workmanship, property damage or even bodily harm against an electrical contractor. COC covers medically related expenses as well as repair costs that might occur. COC may also cover legal defense fees, in the event of a lawsuit. This is something you very definitely should consider in your electrician insurance.
You May Also Want To Consider Inland Marine Insurance (IMI)
Depending on your electrical contractor business, Inland Marine Coverage may be a smart addition to your electrician insurance policy. IMI covers problems related to property that transits across land, as well as some types of properties like TV and radio towers. If your electrician's business deals with electrical-related overland transit, this may be an option to consider.
Snyder Insurance Is Here To Help
Snyder Insurance and Financial Services is a full service independent insurance agency that has proudly served the Chicago area for over 30 years. Our portfolio offers our clients over forty of the finest and most financially secure companies in the industry. With twenty-plus highly trained professionals on our team, we can customize these products and services to meet the unique needs of every client.
Call us at (630) 960-4848 or use our Contact Page to learn how we can serve you.