Ten Tips From National Fire Protection Assoc. For Kitchen Fire Safety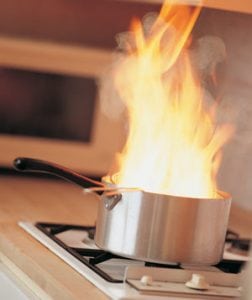 House fires can happen any time. But they're especially prevalent over the holiday season, and a large percentage begins in kitchens all over the U.S. Happy distractions can turn into tragedy all too quickly. To help keep this from happening to you and your family, Snyder Insurance in Chicago and Illinois looks at ten ways to observe kitchen fire safety from the Nat'l Fire Protection Assoc. (NFPA).
We also urge homeowners to review their household insurance, as well as health insurance to ensure that you understand exactly how you're covered. This way, you'll be ahead of the game in the event of a holiday accident. In the meantime, here are NFPA's tips to boost holiday fire safety:
Ten Ways To Practice Kitchen Fire Safety
Kitchen Fire Safety Tip One
It's very easy to become distracted by all the holiday cheer while you're cooking. That's why you should make a habit of turning off the stovetop whenever you walk out of the kitchen, no matter how short a time you expect to be away. If you're time away is as brief as you expected, those stovetop goodies will be no worse off for the short wait.
But if that quick moment away that was intended becomes fifteen, twenty, thirty minutes or more, you don't want dense smoke rolling out of the kitchen along with a wailing fire alarm to be the thing that suddenly reminds you of your cooking.
Kitchen Fire Safety Tip Two
All the activities outside the kitchen aren't the only ways for the holidays to distract you. Getting caught up in helping your kitchen helpers, or stepping away from the stove to a kitchen counter to listen to a great story that one of those helpers is telling can invite the risk of a cooking fire.
When turning away from the stove to attend to another kitchen activity, using a timer to remind yourself that you've got something in the pan, the pot or the oven is a great way to prevent grease or oil fires.
Kitchen Fire Safety Tip Three
Can't wait to wear that great holiday blouse with the long, draping sleeves? Or that fun, kitschy "ugly Christmas sweater" with all the strings and baubles dangling? Wait until all your cooking is done. Whether you cook with gas or electric, wearing flowing or dangling sleeves invites risk of catching fire.
It will take only a minute to change into that special holiday garb once the stovetop and the oven are turned off. And there's the added bonus of making a spectacular holiday entrance once everyone's gathered around the table.
Kitchen Fire Safety Tip Four
When it comes to boiling posts, sizzling pans and hot roasting pans, protect the little ones by establishing a "no kid zone" and stick to it. A minimum of three feet from the stove and oven will keep tiny hands from grabbing pot handles or pulling down the oven door for "just a peek."
Kitchen Fire Safety Tip Five
Only need a couple of stovetop items to be going at once? Using the back burners will help in avoiding any tipping or knock-overs. This isn't just a good idea to protect children during the holidays. Inexperienced teens learning to cook or harried, distracted grown-ups can benefit from this tip, too!
Kitchen Fire Safety Tip Six
Absolutely, under no circumstances, should someone hold a child while also working over the stove or oven. This isn't just sound kitchen fire safety during the holidays. It's an important rule of thumb for cooking all year 'round.
Kitchen Fire Safety Tip Seven
Clothing isn't the only thing in the kitchen that's flammable. A hand towel, wooden cooking implements, cloth or paper napkins, paper towels, plastic storage containers or bags and more are all fire risks when they're kept too close to a hot stove. Be sure to keep anything that you even remotely think is flammable a safe distance from the cooking.
Kitchen Fire Safety Tip Eight
Keeping the surface of stoves tidied up as you cook isn't just an efficient way to stay on top of the holiday clean up. It's also a great way to prevent food spills or spattered oil or grease from catching fire.
Kitchen Fire Safety Tip Nine
Before your holiday guests even arrive, make sure that your kitchen smoke alarm is in working order and has fresh batteries. This is easy to do all year 'round, not just during the holiday season. All smoke alarms have test buttons. If your smoke alarm is beyond your reach, use a durable and stable household stem ladder with enough height that lets you press the test button. A monthly check is a good habit of household fire safety. Installing fresh batteries no less than once yearly, regardless of how the test button reacts, is another.
Kitchen Fire Safety Tip Ten
Always keep a fire extinguisher nearby in the kitchen. You'll find sizes suitable for the kitchen at many hardware stores. Don't wait for a fire to flare up to read the directions. Get acquainted with how to operate it ahead of time.
Most importantly, if the fire is beyond your control, don't hesitate to clear the house, evacuating everyone. Once everyone is safe, call 911. If you live in an area where you don't have 911, make sure you keep regional fire department's phone number easily accessible for all family members. It's also a good idea to have it in everyone's telephone speed dial.
Questions? Snyder Insurance Has Answers!
Everyone at Snyder Insurance & Financial Services wants you to have a joyous and safe holiday season. If you have any insurance-related questions about your household safety, our experienced independent agents and highly-trained staff are happy to help.
Call (630) 960-4848 or use our Contact Page to learn why we're one of the top-rated insurers in the state. And tell us how we can help you!
Happy Holidays To Your Family From Ours!