Tips For Tick Prevention And Control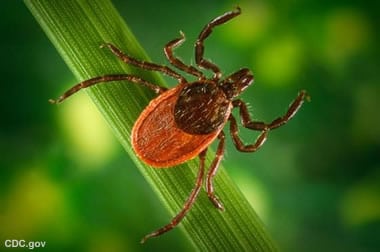 Summer is in full swing! And the Snyder Team want you to have a happy, healthy one. One way to do that is to help keep your family and pets safe from infection and disease through tick prevention and control. It's always wise to take preventative measures against ticks all year round. But it's especially important to do it during the warmer months of summer. Ticks are most active beginning with April and lasting into September.
Tick Prevention And Control Starts At Home
Treating your yard spaces is a great first defense against ticks. Use of pest control that includes an acaricide, which is a pesticide that kills ticks, will reduce the tick population in your yards. This dramatically reduces the risk of ticks on dogs or cats, which can then be transmitted to the rest of the family. Remember, though, that this is just your first line of defense when practicing tick prevention and control.
Use a skin-safe repellant outdoors, especially when visiting into highly wooded areas like parks and forests. Using a spray makes it easy. Make sure to get it on all your exposed skin, but be careful not to get it on hands, eyes or mouth. Be sure to apply repellant to your clothes, including socks and shoes, too. And when going on a hiking or camping trip, keep in mind that tick prevention and control means treating all your equipment, as well, including backpacks, tents, chairs, etc.
A good skin-safe repellent should last several hours on the skin. For clothing and gear, products that contain 0.5% permethrin are ideal. Once applied to your clothes or equipment, the protection will last through several washings. You can also find outdoor clothing and gear that comes pre-treated when you buy them.
When enjoying the great outdoors, especially parks, the best way to practice tick prevention and control to stay on the walking trails and avoid wading into densely wooded or brushy areas. Leaf litter is a favorite hideaway for ticks, as well, so it's best not to kick up leaf litter.
Protecting Your Pet Means Protecting The Whole Family
Protecting your pet from ticks is more than just responsible pet ownership. Ticks on dogs or cats create a gateway for ticks to find the rest of the family. There are a variety of ways to practice tick prevention and control for your pet. They include dog-safe pesticides that can be dusted on the fur, impregnated in collars, spray on or used as topical treatments. Some kill ticks and pests on contact, while others absorb into the bloodstream of a dog, killing the tick as it attaches and feeds.
If your pet is a cat, be aware that felines are very sensitive to a wide array of chemicals. You may want to consult with your veterinarian before applying a pet pesticide to kitty.
But, let's face it. Whether you're just enjoying a day at the dog park or launching deep into the great outdoors, it's always possible for the occasional tick to breach your defenses. So when you return from your outing, follow the tips below as your final defense in tick prevention and control.
Full Body Tick Check
No more than 2 hours after returning indoors, get into a tub or shower. Washing thoroughly makes it much easier to locate any ticks that have hitched a ride on you. Check your entire body after bathing, using a mirror to examine yourself wherever you can't get a full view without one. Check your children after they have bathed, especially under arms, in and around ears, in belly buttons, the backs of the knee, around the waist, between legs, and in particularly their hair.
Look over your pet as well as any gear and equipment. Ticks on dogs, cats or outdoor gear hitch rides into the house, only to attach to a person later on.
Don't forget to check everyone's clothing, including socks, shoes and underwear while practicing tick prevention and control. It's best to wash clothing immediately, even if you don't find ticks. Ticks can hide is seams and folds that can't easily be inspected. When washing clothing, hot water is best as cool or medium temps are not effective for killing ticks. If your clothing is too delicate for hot water, tumble drying on low heat for ninety minutes or high heat for sixty will do the trick.
Snyder Insurance Wishes You A Happy And Safe Summer!
That old saying about an ounce of prevention being worth a pound of cure is as relevant today as ever. To learn more about how to practice effective tick prevention and control, visit the Centers for Disease Control and Prevention. And from the whole team at Snyder Insurance, have a happy and safe summer!