Chicago Winters Call For A Business Disaster Plan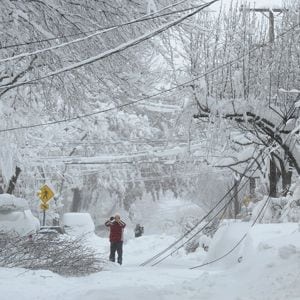 Remember Chicago's "Snowpocalypse" just a year ago? Hard to forget, even if we all want to. And we all want to believe blizzards like that one and the one that struck New York a year before are rare; even once in a lifetime. But the fact is, these fierce winter storms are becoming all too common. The financial toll on a commercial business during one of these can be high: structural damage to buildings, litigation suits connected to on-property injuries, and more.
Now more than ever, whether you own a small business or oversee large operations, you need a business disaster plan that addresses the consequences of a winter catastrophe before one happens. We at Snyder Insurance & Financial Services also urge you to review your commercial insurance policy well before our legendary Chicago winter storms turn too fierce.
Planning ahead by having a business disaster plan in place for winter weather will go a long way in keeping your company productive and your customers and co-workers safe in the event of extreme conditions this winter. The Insurance Institute for Business and Home Safety (IBHS) has created a comprehensive tool kit to help you. They also have some great tips for building weatherization that can add up to extra budget savings for your company.
IBHS's OFB-EZ® (Open for Business-EZ) Business Disaster Plan
This detailed kit offers companies a handy set of tools that can form a sound base for a business disaster plan. Through it, business owners can get a good understanding about how to plan for all kinds of business interruption, including weather disasters. It helps in planning the resumption of your operations and in organizing a list of your key supply companies for easy contacting. It also has organizing tools for essential vendors and for key staff and workforce information. And, highly important in every business, a way to organize data for accessing and more.
There's no charge for IBHS's OFB-EZ® tool kit. This detailed kit is designed to help companies create a good business disaster plan and is downloadable at OFB-EZ®-Business Continuity Planning. It includes the following topics:
Knowing Your Business Risks
Knowing Your Operational Needs
Knowing Your Workforce
Knowing Your Clientele, Business Contacts, Suppliers, Vendors
Knowing Your Business's Financial Status & Need
Knowing Your Tech Equipment & Information Access/Storage Needs
Knowing The Right Time For Testing Your Business Disaster Plan
All these topics have their own downloadable form available in PDF or Word at OFB-EZ®-Business Continuity Planning, or you can download the entire kit there as well. There's also an app for that compatible with Apple, Google Play and Google Chrome.
Handy Building Weatherization Tips
It's always best to have a business disaster plan in place for any emergency whether seasonal or otherwise. But a daily accounting of budget saving measures can go a long way in keeping your doors open, too. Building weatherization through the simple and inexpensive practice of having weather stripping installed and sealing, such as caulking, applied is a highly effective and long term solution to watching your business's energy costs.
Caulking and weather stripping render two main paybacks: they prevent harsh winter weather from finding its way into your building through gaps, cracks and seams, and firmly seal your building so that energy efficiency is significantly increased.
The best way to know where you need building weatherization is to conduct an inspection of the building, with particular attention to the following areas:
Window frames and door jambs
Venting and the seams around fan installations
Plumbing
Air conditioning units
The entry areas that allow electric and/or gas lines to come into the building
Mail chutes
Snyder Insurance Cares About Your Business
Part of any sound business disaster plan includes having the right insurance in place. If you're unsure if your commercial insurance fully covers your business's needs, give us a call at (630) 960-4848 or use our Contact Page. The Snyder team is an experienced group of independent agents ready with answers to any of your insurance questions. We look forward to hearing from you!