How Climate Change Affects Disaster Insurance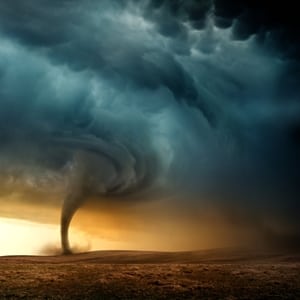 A disaster borne of a climatic event is nothing new. But the increase in catastrophic climate incidents has been on the climb for decades now. No matter how one views the cause of climate change, there's little doubt that climate shifts are happening everywhere.
This is spurring an increased interest in disaster insurance by homeowners and businesses alike. If you're uncertain as to what types of weather disasters are covered by your homeowner's catastrophe insurance, tornado insurance or commercial policy, Snyder Insurance in the Chicago area recommends that you review it now.
Last year, catastrophic climate-based events killed no less than one-hundred thirty-eight people in the U.S. and have cost forty-six billion dollars nationwide. Inland flooding is now the number one costliest climate disaster since 1997.
Since 2011, the record for warmest year has been broken a number of times, with the past twenty years consecutively reflecting a "new normal" of warm. These days, the increase in the need for adequate coverage through disaster insurance is also becoming the new normal.
How Climate Change is Altering Views on Disaster Insurance
Scientists and industries are keeping a particularly close watch on several basic kinds of natural disasters. Among them are droughts, hurricanes and winter storms. The idea is to measure how the pattern changes in these events are affecting people's lives now, and how these will affect them in the future. Doing so is an important part of gauging the needs in disaster insurance for the public as they develop.
Strong seasonal storms and rising sea levels are the topics regarding coastal areas. Of particular concern are the questions regarding the wisdom of building in these vulnerable areas at all, as well as how to do so if it is done, and who bears the cost to home and property in these areas when natural catastrophes happen. Just how much disaster insurance should be carried by property owners in any areas of risk is a critical decision.
Warming temperatures have the potential to affect energy and agriculture, as well. According to the chief of the National Centers for Environmental Information, the world has "not arrived in our climate of the future, but we have certainly left our climate of the past."
From homeowners to businesses to government agencies, understanding the details of changing climate is essential to making good bottom-line decisions. That includes understanding just what is needed in a comprehensive disaster insurance policy that address the issues particular to individual areas.
2016 was noteworthy for pervasive warming. Almost every state's average temperature was in the top ten percent ever recorded. The overall U.S. average yearly temperature was 2.9 degrees higher than the 20th century average. Since 1980, the Chicago area's average temperatures have increased approximately 2.6 degrees.
Increasing Precipitation
Temperature data isn't the only measurement being watched by officials concerned about the effects of climate change. All forty-eight contiguous states of the U.S. have seen a 4th straight year of higher-than-average rainfall.
Overall, the yearly precipitation averaged 31.7 inches, breaking down to almost 2 inches higher than the long-term average. This comes as no surprise to researchers, who for many years have stated that warming world temperatures means more moisture in the atmosphere.
2016 was a hallmark year in that more than two inland flooding events were the cause of losses that exceeded one-billion dollars each. October's Hurricane Matthew along the Eastern Seaboard and the August flooding that inundated Louisiana each caused ten billion dollars in damages. But financial disaster wasn't the only catastrophe. Matthew claimed the lives of forty-nine people, and Louisiana's flooding took thirteen lives.
But disaster insurance that includes effective coverage for flooding and violent seasonal storms is as important for Illinois residents as it is for U.S. coastal regions. Tornadoes, lake effect storms in both summer and winter, and river flooding have been on the rise all across the state.
What this climate change will ultimately mean for the U.S. is yet to be determined. But we do know that change is occurring, and it demands everyone's attention for protecting family, home, property and business. Making sure you have adequate disaster insurance is as essential as having proper life insurance and health coverage.
Have Questions About Catastrophe Insurance? Snyder Insurance Can Help
The time to read over your catastrophe insurance policy is before disaster strikes. If you have any questions about your existing policy, or are unsure if you have the right disaster insurance coverage for your area, the team of specialists at Snyder Insurance is happy to help.
As an independent insurance agency, Snyder Insurance And Financial Services has proudly served the insurance needs of Chicagoans, the people of Illinois and more than twenty other states for over thirty years. Call (630) 960-4848 or use our Contact Page. We look forward to hearing from you.