Tips For Choosing Watercraft Insurance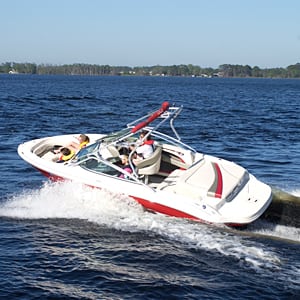 Insurance policies that provide coverage for boats and personal watercraft are commonly referred to as watercraft insurance. Simple enough, right? Well, yes and no. There are many aspects of watercraft that boat insurance covers, including towing, repairs, accidents, maintenance, and personal injury coverage. Choosing watercraft insurance that's right for your particular needs takes a little sorting out.
As a comparison, think of the things you need to be covered for with a typical auto insurance policy. Many of these same things need to be part of watercraft coverage, too. Watercraft insurance is purchased for sailboats, house boats, and pontoon boats, along with personal watercraft vehicles like jet skis and other crafts. It is important that you understand what you need to look for when it comes to getting watercraft insurance. Fortunately, with Snyder Insurance, you can get expert help choosing watercraft insurance that keeps you protected while you have fun out on the water!
Determining Needed Coverage
The coverage needed in watercraft insurance will vary depending on the type of watercraft that is being insured. When choosing watercraft insurance, this is one of the foremost things to keep in mind. This is due to the fact that the different types of watercraft have different risks involved with their use and operation. For example, a sailboat and a pontoon boat will be classified differently. Since they are different types of watercraft they have different coverage needs, along with specific limitations and premiums associated with them. Likewise, a high powered speedy jet ski will need different coverage than a sailboat would.
Off-Shoot Homeowners Coverage
In some cases, a homeowner's policy may provide coverage for boats or other type of watercraft. Often times, there is a price limit on what it will cover. This means that, generally speaking, only smaller craft are included under the umbrella as part of the homeowner's policy. If the watercraft you have exceeds the financial limits of the homeowner's policy, you will likely need to have it covered by a separate watercraft insurance policy.
These policies offer a variety of limits and benefits, so you should be able to find one that fits the needs for your particular type of boat or personal watercraft, as well as the way you intend to use it. Snyder Insurance can help you get the right kind of watercraft insurance you need, ensuring that you are covered properly. There is no need to let choosing watercraft insurance be a confusing or frightening experience any longer. Help is within reach, and you can enjoy your time out on the water again!
The Finer Details Of Choosing Watercraft Insurance
Like an auto policy, there are certain limits to what a watercraft insurance policy covers when you are out on the water. Watercraft insurance policies often have coverage limitations on the depth of water in which you can take your vessel or the distance from shore allowed. Depending on the type of craft you are insuring, you may also be limited to certain types of water. For example, fresh or saltwater, landlocked bodies or open ocean. The geographic areas permitted will be detailed in the policy. As long as you abide by those constraints and limitations, as well as the other terms in the policy, you will be covered and protected.
Coverage You Can Count On
As a family owned independent insurance agency, Snyder Insurance works to make sure watercraft policy types and options that best fit your situation are thoroughly explored. No two plans are alike, so having an independent insurance agency like Snyder on your side can really pay off in finding the best prices, features and coverage for your needs.
All of this will depend on different factors, like the type of watercraft you have, how often you use it, and where you use it most often. You may need a basic policy or a more advanced one. It is important to find one that meets your needs and that provides the coverage you rely on when you are out on the water.
Snyder Insurance can help take the guess work out of choosing watercraft insurance, and help you get back to where the fun is: on the water! Contact us at (630) 960-4848!