Flooding Beats Them All When It Comes To Water Damage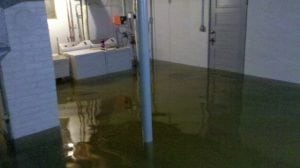 Storm season is officially here for the Chicago area. But scary as tornados and hailstorms are, were you aware that flooding beats them all when it comes to property damage in the U.S.? In fact, flooding is the annual leader in water damage, due to storms. The National Oceanic and Atmospheric Administration (NOAA), tells us that flooding causes over 5 billion dollars in water damage every year. So it's only right that Snyder Insurance highlights National Flood Safety Awareness Week for 2016.
One of the best places to begin finding ways to safeguard your house or other properties is to head to your basement. Any basement is particularly susceptible to water damage. Should that happen in your house or place of business, big repair bills or even unhealthy air quality might be in your future. Once mold and mildew take hold, it can jeopardize more than just your back account.
Flood insurance is not standard in most homeowners insurance policies, so be sure to check your coverage for flooding. If you didn't add it when you got your policy, you likely don't have it. Make sure you check before disaster strikes.
In the meantime, take a look at these 9 tips to help you shield your property from the disastrous outcomes of water damage.
9 Ways to Protect Your Home From Water Damage
Regularly check your basement floor's drains to assure they aren't matted over or clogged, and check your plumbing system to make sure it's operating well.
When you find any leaking or cracking in or around a window, door, outside wall, your roof or, property foundation, take care of it as soon as possible. And don't forget to include your HVAC system in the check.
Labeling the shut-off valves for your water supply lines will help you act quickly should you find any leaks in pipe or if one bursts.
Quality, water-proof sealants are a great way to storm-proof your home. Apply the sealant to both the inner and outer walls of the house's foundation.
Got a sump pump? Be sure to test it. Installing a battery-driven backup for the sump pump is a great investment in flood preparedness. Should a storm cause any power outages, you'll be glad you did.
Sturdy plastic storage containers are ideal for packing away any valuable or best-loved things that you stow in the basement. Keeping them on shelves or racks that keep them off the floor is always a plus.
Installed wall-to-wall carpeting may seem like a great idea for making your basement floor family-friendly. But using less expensive large area rugs, carpeting remnants and accent rugs can be just as friendly to family, and save you a lot of hardship should storm flooding or a burst pipe turn your basement floor into a wading pool.
Any unused furnishings, appliances or exercise equipment will better survive a flooded basement if they're protected with sealed plastic bags.
The majority of water damage in the basement happens when water rises to an inch or higher. Keeping all electrical gear, and that includes wiring, at least one inch above the floor will go a long way in preventing electrical accidents and expensive repair or replacement.
We hear at Snyder are happy to answer any questions you may have about flood insurance. Call us at (630) 960-4848 or use our Contact Us page.