Finding the Right Health Insurance Plans for You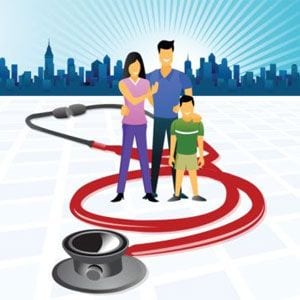 By some estimates, more people are insured now than ever before. But with the influx of these numbers comes more confusion. What health insurance plans offer the best options at the most affordable price?
Just as with personal and life insurance or long term care insurance, health insurance coverage is an important decision that should take into account your family's needs down the road, not just your immediate health concerns. Snyder Insurance, an independent insurance agency in the Chicago area, takes a closer look at the choices to help you sort it all out.
Health Insurance Plans & the Affordable Care Act
Until our government representatives settle on how universal health insurance plans will change in the years to come, the Affordable Care Act (ACA) remains in force. Presently, federal law still requires everyone to choose health insurance coverage of one type or another, or pay a tax penalty.
Health insurance plans that are in compliance with the ACA (often called Obamacare) are all major medical health insurance plans. Major medical health insurance coverage complies with the minimum essential benefit standards put forth by the ACA. It also provides a wide range of benefits involving inpatient and outpatient health needs.
Major medical coverage can take the following forms:
Health insurance coverage for people who need only an individual plan, as well as family insurance health plans
Health insurance coverage through employer-based health benefits
Qualified health plans, which can be bought with the aid of ACA-based subsidies)
Catastrophic plans, which are generally targeted to people that are thirty years of age or under
Health insurance plans, such as Medicare or Medicaid, that are sponsored through the government
Health insurance plans that don't meet ACA criteria as major medical health insurance include:
Short-term health coverage, which is coverage designed specifically to temporary healthcare insurance during unexpected coverage gaps
Gap insurance, which is health coverage for situations like covering out-of-pocket expenses such as high deductibles or temporary loss or reduction of income during a health crisis
The majority of people in the U.S. get their health insurance coverage through their employers or unions. Many others get it through government programs such as Medicaid or Medicare. However, a significant number of Americans will remain uninsured without some form of government-backed insurance coverage.
Perhaps you are exploring health insurance plans for the first time. Or you may be unsure if you should change your health insurance coverage, because your life circumstances have changed. Maybe you simply want to shop around for a plan that is better for your budget, or because you're looking for better benefits. Regardless of your reasons for researching your health insurance options, below is a breakdown of coverage that meets ACA minimums.
Health Insurance Plans & Their Details
The Affordable Care Act mandates that people cannot be refused health insurance coverage while the Open Enrollment Period is in effect. This includes protections concerning pre-existing medical conditions, as well. Also, offering specific services, treatments and therapies is required in every all health insurance plans, no matter how you attain your coverage (subsidized, government sponsored, employer-based, or independently).
On average, during 2016, the average monthly premium for an individual health plan was slightly over $320.00. Family coverage averaged slightly over $830.00.
ACA compliant health insurance plans have a number of options for people to choose from. They are:
The Health Maintenance Organization Plan.
Also known as an HMO, a Health Maintenance Organization plan is health insurance coverage in which a complete network of health care providers offers services. The person opting for one of these HMO health insurance plans selects a primary care provider (PCP) who acts as the coordinator in all health services and care to be received.
HMOs tend to be one of the most economical options available, which likely has much to do with their popularity. They also, generally, cover the majority of preventive care, which includes specialist visits. However, with HMOs, specialist visits will be covered only covered with referrals by the patient's primary care provider.
In addition, there are "co-pays"; co-payment fees attached to each non-preventive medical appointment. The HMO might also require a yearly deductible for services. These health insurance plans are generally better suited to an individual or a single person, or for a family, that intend to visit their PCP regularly for check-ups and further health matters.
A Preferred Provider Organization Plan.
With a Preferred Provider Organization plan, the patient can select any health care provider or specialist that is listed in the insurance company's network, with no need to seek a referral from his or her primary care provider. Usually, the patient need not even necessarily select a PCP, let alone be required to get a referral for seeing a specialist.
Patients usually will need to make co-payments regarding non-preventive medical care received. There might also be a yearly deductible. People who seek the care of specialists on a regular basis frequently prefer PPO health insurance plans. PPO premiums do tend to run higher than HMO premiums. However, some people who might otherwise opt for HMO health insurance coverage choose PPOs for their flexibility, as well as feel this type of health insurance coverage offers better care in general.
An Exclusive Provider Organization Plan.
As with PPOs, Exclusive Provider Organization (EPO) health insurance plans allow the policy holder to access any health care provider that is in the EPO's network, including any specialist in the network. However, while PPOs may provide coverage outside of their networks, EPOs usually do not.
With this in mind, a person who is comfortable with the available choices within the EPO's network's limits often find that an Exclusive Provider Organization plan offers a good balance between some of the benefits of PPOs and the lower premiums of HMOs. Over the past few years, EPO popularity has shown an increase.
A Point of Service Plan.
A Point of Service (POS) plan is cross between Health Maintenance Organization plans and Preferred Provider Organization plans. POS health insurance plans generally allow the patient to designate a primary care physician. However, use of a provider that is outside the network is allowed, should the patient be willing to accept the higher out-of-pocket expense. In addition, there will typically be co-payments and deductibles. People who prefer, or feel they need, the extra flexibility that a POS provides tend to seek out Point of Service health insurance coverage and are willing to pay a little more for these plans.
A High Deductible Health Plan.
A High Deductible Health plan (HDHP) isn't so much a plan within itself as a variant available on PPOs, EPOs or HMOs. Health insurance plans with high deductibles mean that the policy holder must pay a higher out-of-pocket expense before health insurance coverage will take effect.
People who don't anticipate using their health insurance plans a great deal often opt for an HDHP in order to keep monthly premiums low. High Deductible Health plans are frequently used alongside Health Savings Accounts (HSAs). Anyone who is already contributing to a Health Savings Account can purchase health insurance coverage that is compatible to HSAs. Money in HSAs is used to pay for any medical expense that qualifies within the HSA's limits, and are saved on a pre-tax or tax-deductible basis.
Health Insurance Plans Outside The ACA
Just because some health insurance plans aren't a part of coverage under the Affordable Care Act, that doesn't mean they don't have an important role to play under certain circumstances.
Short-Term Health Insurance
Short-Term Health Insurance coverage is a viable alternative for people may have missed the ACA open enrollment period. In such a case, Short-Term Health Insurance plans allow for at least coverage for you and your family until the next enrollment period comes around.
The benefits offered by short-term policies are more limited in scope than major medical insurance plans. But they can aid in safeguarding finances in the event of sickness or accidents. Keep in mind, however, that Short-Term Health Insurance coverage, regardless of the circumstances, doesn't meet the ACA's minimum requirements. This means you might still be subject to a tax penalty for not enrolling.
Also, it's important to know that Short-Term Health Insurance policies may have exclusions regarding pre-existing conditions. Short term policies are not renewable, and provisions for preventative procedures like a physical, vaccine shot, dental appointment or work, or services by a vision professional are not covered by short term insurance.
Keep in mind, too, that there are states, as well as insurance companies that may elect to put limits on consecutively applying to Short-Term Health coverage.
Gap Health Insurance
Gap Health Insurance plans differ from Short-Term Health Insurance coverage in that Gap Insurance provides a safety net for emergencies, unforeseen medical expenses, and similar outlays related to medical emergencies. As with Short-Term Health Insurance, Gap Health Insurance coverage may be helpful during a temporary absence of a major medical policy. But Gap Health Insurance may also be purchased in addition to major medical policies or short-term policies, as a way to acquire supplemental protection.
As with Short-Term Health Insurance, Gap Health Insurance plans do not qualify as adequate coverage under the Affordable Care Act.
Other Healthy Insurance Plans
Other coverage available as auxiliary insurance include:
Ancillary dental plans
Ancillary vision coverage
As with Short-Term Health Insurance and Gap Health Insurance plans, ancillary dental and vision plans do not qualify as adequate coverage under the Affordable Care Act.
Call Snyder Insurance With Your Questions
Sorting out the types of health insurance plans that are best for you and your family can be daunting. And as changes come to national health care in the future, it will be important to understand them.
As a top rated independent insurance agency in Illinois and the Chicago area, Snyder Insurance is uniquely qualified to serve you, whether you're just beginning to sort out your Affordable Care Act options or need help during re-enrollment, the Snyder Team is here to help.
Snyder Insurance and Financial Services has been proudly serving the insurance needs of Chicagoans, the people of Illinois and more than twenty other states for over thirty years. Call (630) 960-4848 or use our Contact Page. We look forward to hearing from you.