Easy Frozen Pipe Prevention During The Winter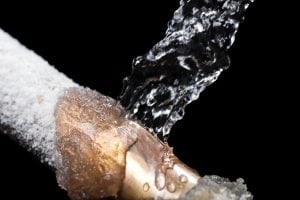 Winter is well on its way here in the Chicago area and across Illinois. And though there is a lot to enjoy as we move into December and January, we also have to keep in mind that freezing weather can play havoc with your home's water pipes if they aren't properly protected. Snyder Insurance has some frozen pipe prevention tips to pass along from the Insurance Institute of Business & Home Safety (IBHS).
Preventing frozen pipes in Chicago and Illinois isn't just a way to keep the water flowing. It's essential in protecting your home and avoiding expensive plumbing repairs or costly damage to your belongings and even to the house itself. A frozen water pipe that bursts is among the largest home and business risks during the frigid months of the year.
Thirty-seven percent of frozen pipe damage happens in the basement, flooding the area and putting home appliances, water heaters, furnaces and stored belongings in jeopardy. If you have a finished basement, the costs of the damage can escalate. Repair and replacement expenses can reach $5,000.00 or more.
But following the simple frozen pipe prevention tips below will go a long way in avoiding a winter catastrophe. We at Snyder Insurance also recommend that you know exactly what your homeowner's insurance includes. It's far better to know now and update your policy as needed before a disaster, like a burst water pipe, happens rather than after.
5 Easy & Essential Frozen Pipe Prevention Tips
Frozen Pipe Prevention Tip #1
The freeze point is 32 degrees Fahrenheit, so preventing frozen pipes in Chicago is something to be aware of every winter. It's important to maintain a temperature that is consistently above freezing inside your home. If you have a basement where your plumbing lines run through, you want to keep the basement temp above freezing, too.
Make sure you're prepared ahead of time for temperatures that drop below freezing. And keep in mind that your neighborhood may experience colder temps than the average you get on TV or from your weather app.
Frozen Pipe Prevention Tip #2
As soon as you learn that the temperature is forecast to drop below freezing, look for which of your cold-water facets are connected to pipes that are exposed and vulnerable to becoming frozen. Open one of these just enough to allow trickling. This keeps water flowing through, which prevents the pipes from becoming frozen solid.
Remember, the Lake Effect can cause Northern Illinois temps to drop suddenly. This means that it's important to act quickly in order to prevent frozen pipes in chicago homes.
Frozen Pipe Prevention Tip #3
Maintain a consistent temperature within the house that is higher than fifty-five degrees Fahrenheit. That includes your basement. If you're not going to be at home, whether for a short while or an extended stay, make sure the thermostat is set no lower than fifty-five degrees.
Frozen Pipe Prevention Tip #4
Wrap your pipes, both outside where they enter your house and where they're exposed inside your home. Most any hardware store carries pipe insulation that sells for a low as fifty cents for a linear foot. This simple, low-cost preventative measure will go a long way to help you prevent frozen pipes in your Chicago home.
Frozen Pipe Prevention Tip #5
Visit IBHS at DisasterSafety.org to learn more about freezing weather safety that goes beyond frozen pipe prevention.
Snyder Insurance Is Here To Help
Snyder Insurance & Financial Services team wants you to have a safe and fun winter season. If you need insurance-related information about home safety…whether summer, winter, spring or fall… our experienced independent agents and highly-trained staff are happy to help.
Call (630) 960-4848 or use our Contact Page to learn why we're one of the top-rated insurers in the state. Enjoy the snow safely!